Silium Shampoo: ingredients and method of use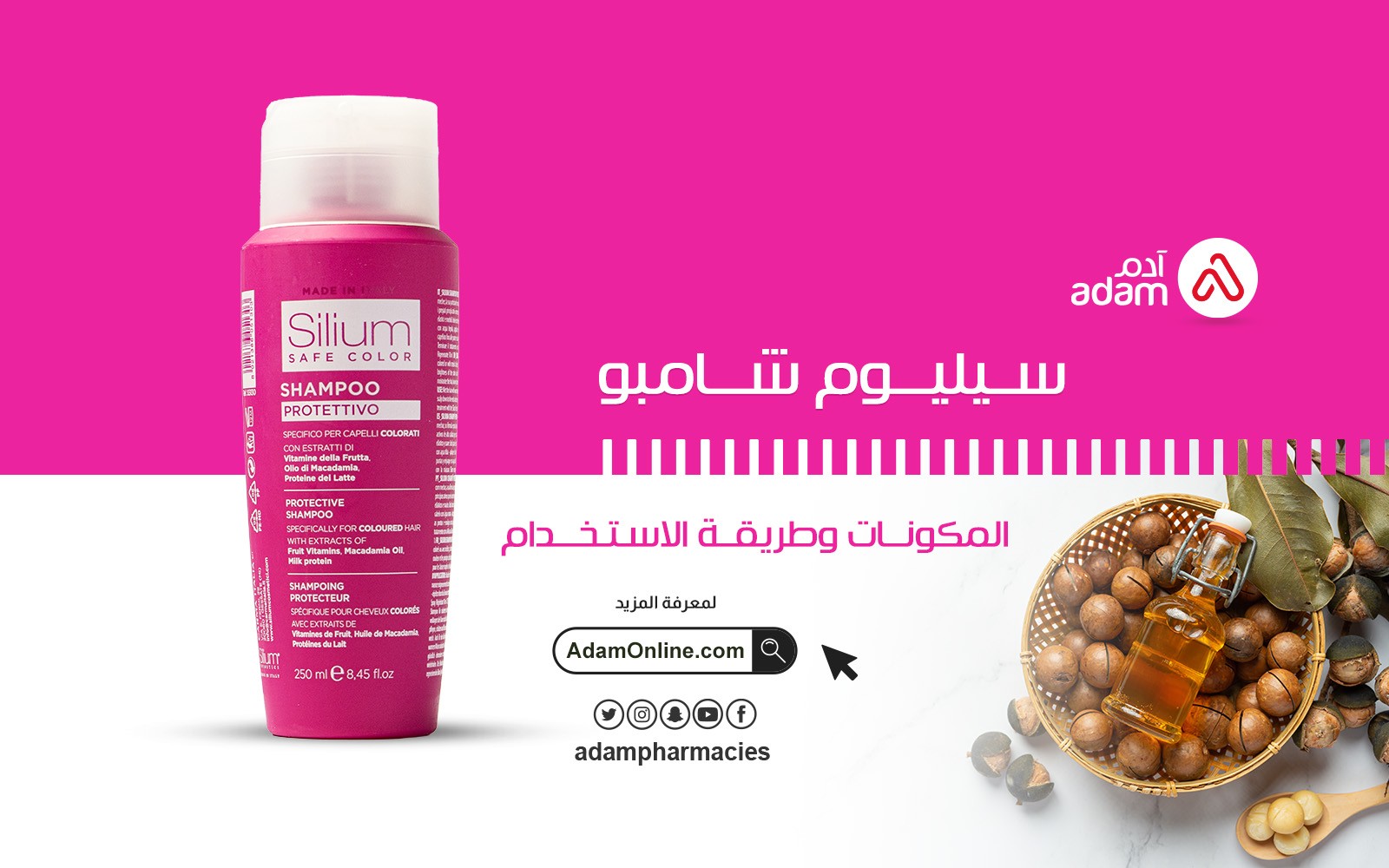 Many women seek to use the best types of shampoo to take care of their hair from damage due to dyes and other factors that affect the hair, so we have provided you with Silium shampoo, which is rich in vitamins and substances that maintain hair of various types that we present to you in this report.
Theingredients:
Silium shampoo for dyed hair
Many women want to change the color of their hair, but the dye can cause a lot of damage to the hair because it contains substances that cause it harm.
The tinctures help build up in the body chemicals and toxic compounds, which can cause changes in genes and cause cancer. Therefore, you should choose dyes that are free of substances that cause hair damage.
You should also choose a shampoo after dyeing that maintains and strengthens the hair, and of course, Silium is a shampoo for dyed hair that maintains the shine of the hair for a long time.
It also helps the natural balance of the hair thanks to its components, which are:
Fruit vitamins that work to combat free radicals.

Silium shampoo for color-treated hair contains macadamia oil, which is rich in oleic acid, which acts as an anti-inflammatory and regenerates cells.

Macadamia oil keeps the scalp and hair moisturized, thus keeping the skin barrier healthy.

It regulates sebum secretions from the scalp and thus helps protect it from dandruff and bacterial growth.

It works to renew the skin cells in the scalp and thus helps nourish the hair from the roots.

The shampoo also contains milk proteins that enhance the strength of hair follicles, regulate the secretion of oily substances in the hair, stimulate hair growth, moisturize the hair and thus protect it from drying out.
shampoo
consists rejuvenating of many natural ingredients that have many benefits to use after dyeing, including:
Collagen: It contains antioxidant properties, which helps to get rid of the damage caused by free radicals in the body that damage hair follicles and their structure, It also prevents age-related hair loss, and collagen protein makes up about 70% of the components of the dermis, which is the second layer of skin that contains hair follicles. .

Vitamin A, E: Helps accelerate the process of hair growth and lengthening, and in the production of keratin and protein in the hair. Vitamin A also stimulates skin cells to produce natural oils in the scalp, which helps moisturize and soften hair and provides hair with health and strength. Vitamin A, E also protects The scalp, making it a healthy scalp free of dryness, because it contains antioxidants that protect the hair from drying out.

Silium hair rejuvenating shampoo also contains guar gum, which works to moisturize the hair by locking moisture in it, and works as a conditioner and makes the hair soft and shiny, as well as prevents breakage, reduces frizz and protects hair strands from pollution, and makes hair easier because it acts as a detangling agent.
Silium shampoo to soften hair
Silium shampoo to soften hair is one of the best types of shampoo that is rich in many ingredients that maintain hair and make it softer, from these natural ingredients:
White thyme oil: Thyme oil contains anti-inflammatory compounds, which may help kill inflammatory bacteria, And reduce scalp dryness, nourish hair follicles, thus rejuvenating hair follicles and relieving dandruff symptoms.

Arnica flower: treats hair loss problems, protects the scalp from fungi that cause hair damage and lose its luster and vitality.

Vitamin A, E

extract of the hops herb: gives a natural shine to the hair and helps reduce dandruff. It is also used to strengthen the hair because it contains antioxidants that help reduce hair loss. The vitamins and essential oils in it help open the small pores of the scalp and reduce hair loss.
Silium curly hair care shampoo Silium
curly hair care shampoo rich in effective ingredients that maintain curly hair, including:
Elastin: maintains healthy hair, strengthens it and works on hair growth naturally.

Milk Proteins
Hair Density Shampoo
Silium Hair Density Shampoo Contains:
Hyaluronic Acid: Moisturizes the hair as it allows the hair fibers to retain moisture for long hours, making the hair silky smooth, and helps to smooth out curls easily, in addition, it gives the hair extra volume and repairs damaged hair strands It also moisturizes the scalp, allowing collagen to grow in it, which in turn promotes hair health and growth, and helps treat the problem of dry scalp.

Vitamins A and E act as anti-aging and antioxidants, improve blood circulation to the scalp, and increase hair luster.
How to use Silium shampoo
To get the best results from using Silium shampoo, follow these steps: To
wash your hair the right way, it is necessary to have an appropriate water temperature. The water should not be too cold or too hot and should be completely lukewarm.

We often make the mistake of washing our hair with hot water no matter how relaxing it is, using hot water damages your hair as hot water strips the natural oils from the scalp leaving it dry and weak.

Before applying shampoo to your hair, dilute the shampoo by adding some water to it so that it is not harsh on the hair follicles.

Rub the scalp with shampoo to improve blood circulation and stimulate hair follicles.

While shampooing, use your fingertips to comfortably massage your scalp.

After rubbing your hair for a few minutes, wash it well.

After you have finished washing your hair, do not rub it with the towel, because this weakens the roots of the hair. Instead, use a soft towel and squeeze the excess water from the hair while leaving it to air dry.
---