Activating the Al Rajhi Bank Vouchers Service, Resal and Walaa Plus Success Partners in Adam Pharmacies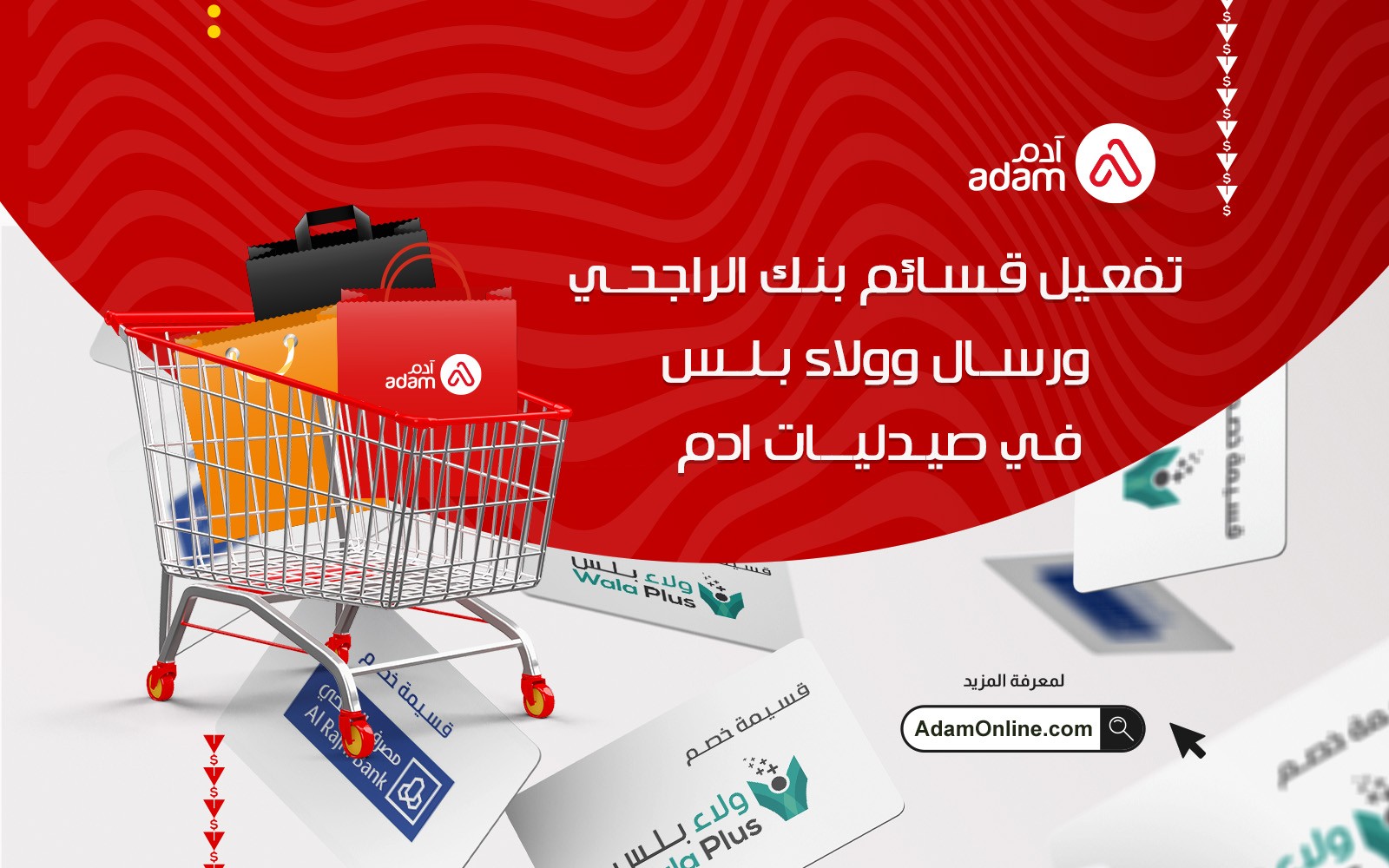 Al-Rajhi bank , Resal and Wala Plus, Success Partners in Adam Pharmacies
Service Achieving the highest benefit for the customer, you are always preferred to us and our services are endless in order to reach the finest and best service while creating the factors of comfort, safety and development with all events and developments to achieve the highest level.
Activating the loyalty program (reward) from Al-Rajhi Bank
program has also been activated reward) Bank , which is a loyalty program affiliated with Al-Rajhi Bank, which gives you a very wonderful experience where you will get many points that cover your needs by taking advantage of Al Rajhi Bank's partners, which have become more than 170 partners across the Kingdom, register the reward , then collect points through all banking transactions conducted through Al-Rajhi Bank, then exchange them from Adam Pharmacy via your mobile number, e-vouchers, or redeem points. You can also transfer points to one of your family or donate them for charities.
Activating the Wala'a Plus service to achieve the highest return on points
Walaa Plus is considered one of the best human resources companies that aims to enhance total loyalty by offering discount programs in all areas such as restaurants, clubs, sports cafes, etc., and now it is cooperating with Adam Pharmacy to give customers the opportunity to win points with Every purchase through the application, through which the customer can win points and innovative programs that make customers satisfied and loyal to their store continuity of dealing with brands their favorite
Activating the (Resal) platform with Adam pharmacies
The cooperation and partnership between the digital card gateway (Ressal), which allows many payment cards for Adam's pharmacies to be an approved partner, Ressal is a technology company that supports the economy of society by issuing specialized cards for prepaid cards and provides payment solutions for individuals And companies by offering rewards and points in cooperation with major companies, international brands, banks, and many unfinished partners whom the Ressal always to expand its circle with them and expand the scope of its services, and now you have a partner of success in Adam's pharmacies throughResal, the best digital card store.
How to subscribe to the Rassal platform
You must have a valid and activated account with Al Rajhi Bank Mubasher

Use the same username and password for the (Reward) application in Al Rajhi Bank

Join by entering the Rassal platform and providing the correct information

Get points through transactions

Take advantage of your points now And use it to get great discounts from hotels, restaurants and pharmacies

. Tell us in Adam that you are subscribed Ressal and get your points and discounts.
Adam Pharmacies are partners of permanent success. We strive to improve our services in all that is new to reach customer satisfaction.
---