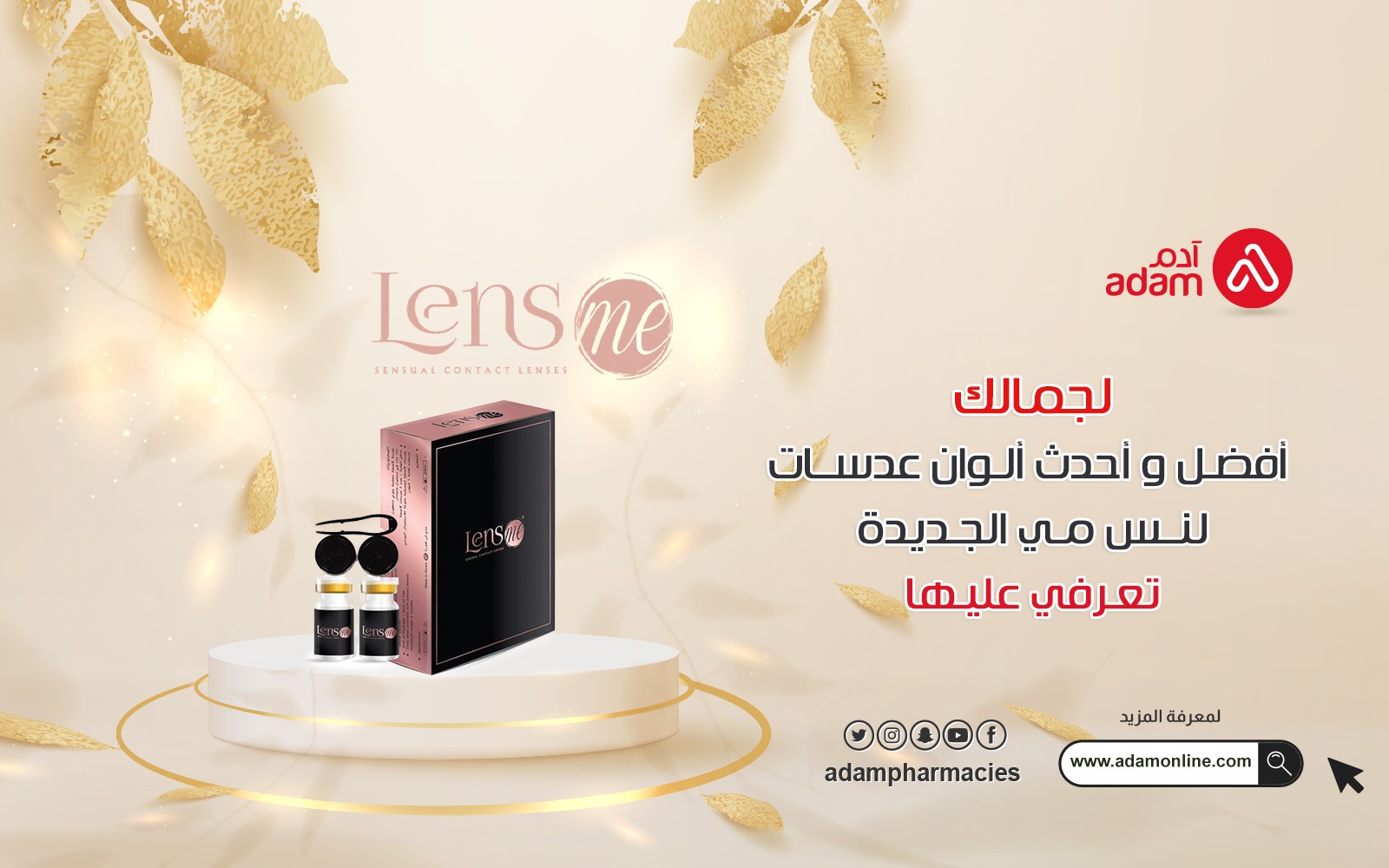 Lenses me multicolored contact lenses
best colors of the new Lens me lenses that many girls and women are looking for, in order to get a wonderful and attractive appearance, as they are one of the best brands in contact lenses , and these lenses vary in natural colors that suit all skin types, and they are available in a range of colors different natural.
Lens
me contact lenses are one of the most important Saudi trading platforms, which in turn offer a large number of the best types of contact lenses, whether transparent or colored.
It also provides two basic types of cosmetic or corrective lenses, and perhaps one of the most important things and advantages that distinguish this distinguished brand is its reasonable prices that compete with other brands and brands in the Kingdom.
This comes in addition to its availability in Adam's Pharmacy, which is characterized by fast delivery and multiple payment methods available, to ensure the best experience for its customers and users in the end.
catalog includes Lens me contact lenses a large number of different colors and types of contact lenses that have been able to cause a huge sensation among all women living in Saudi Arabia and even in the whole world.
It is worth mentioning here that the catalog of Lens me lenses contains a large number of pictures and illustrations for each color of the lenses.
In addition to explaining and clarifying its real name, which is mostly obtained by the color tone of each.
What are the colors of Lens Me lenses?
The famous brand Lens me offers a large number of colored contact lenses, which may reach nearly 18 types.
A large number where it may constitute a relative confusion for the majority of women in choosing the right color, so we will present to you the available and best colors:
T.

Marble.

malachite.

latte.

Smokey.

brouwn.

Cafe.

caramel;

Lyme.

Honey.

Village Lance Me.

Cloud.

mist.

Oliven

Sky Blue

Sugar Gray.

Annual lenses.

Quarterly lenses.
Types of Lens me lenses Lens
Saudi Arabia offers a large and distinctive collection of the best types of lenses available throughout the Kingdom, which range to include all of the following:
meClear lenses or tinted lenses that can be designed according to a woman's vision data in order to finally enjoy a comfortable eye and a bright and sparkling appearance.

Cosmetic lenses: These lenses are suitable for use by all groups and members of society, as they are not designed with specific sizes, but rather include the color that the majority of women use to complete the aesthetic touches of their outer appearance.
The best color lenses
As we explained earlier, the lens.me range also offers a large number of the most beautiful and wonderful colored lenses that can catch the eye at first sight.
T lenses
This distinctive lens that captivates the hearts with its calm and delicate appearance, it comes in an indeterminate honey brown color, and it has been designed with an innovative and unique feature that allows oxygen to pass into the eye, preserving the whiteness of the eye. The eye and protects it from exposure to dryness or redness.
Marel lenses
The lens features a mixture of two distinct colors, brown and gray, a wonderful combination that may eventually help make the eye color more visible and brighter.
malachite
lenses offered by the lens.me range of lenses, have a light gray color that gives the eyes a bright, wonderful and distinctive look.
Latte lenses
This color is one of the best and most beautiful distinctive colors produced by Lens Me, which is characterized by its wonderful brown color that blends with the pure honey color to give it a great deal of sophistication and beauty.
Caramel lenses
This is one of the most popular colored lenses offered by the Lens Me group, which has gained great popularity among the majority of women, as it has a brown color similar to caramel, which gives the eyes a natural and bright look.
Olivine lenses
This wonderful lens is distinguished by its distinctive and different combination of green and hazel colors, which ultimately helps to give the eyes a natural and sparkling olive color.
How to open Lens
me lenses The method of opening Lens me lenses is similar to other basic methods that we generally rely on to open and use colored lenses, and here is how to open Lens me lenses with clarification: The
necessity of washing and sterilizing hands before opening the lens.

Open the lens case and hold it with the tip of your index finger.

Place the lens and fix it in the eye, making sure that it is already present in its solution.
Lens me lens
solution is one of the most important lens solutions available in the market, as it is characterized by its high quality that contributes to maintaining the moisture of the eyes and protecting them completely from the risks of dry eyes or infections.
It is considered one of the most economical lens solutions that come within everyone's reach.
How to choose the right color
of lens.me contact lenses for your skin The majority of women usually face great confusion in choosing the right color of contact lenses for their skin, which may help to highlight their beauty in a wonderful and radiant way.
Dark or warm skin: they should choose hazel, hazel, or brown lenses. You can also choose a light blue color that suits the color of dark skin.

People with fair or cold skin: Gray, violet, or blue lenses are best.

People with wheatish complexions or neutral complexions: They are followed by a plethora of multiple colors such as green, honey, gray, green, or violet.
The most important tips of cosmetic experts for the care of Lens me lenses
There are a large number of the most important tips and guidelines developed by cosmetic experts regarding proper care of Lens me lenses, including, for example, all of the following: The
necessity of sterilization and washing hands thoroughly before carrying contact lenses.

Clean, rinse and sterilize contact lenses after each use with their special solution.

Always work with the same lens to avoid confusing the right lens with the left lens.

The need to use contact lenses during their validity period.

Clean the contact lens case periodically and continuously.

Never share lenses with anyone.

It is also recommended to maintain good hygiene for the fingers, and trim them constantly, so as not to affect the lenses or cause them to be scratched when used, in addition to protecting the eyes from injury or scratching due to long nails.
---