6 types of Garnier shampoo, get to know them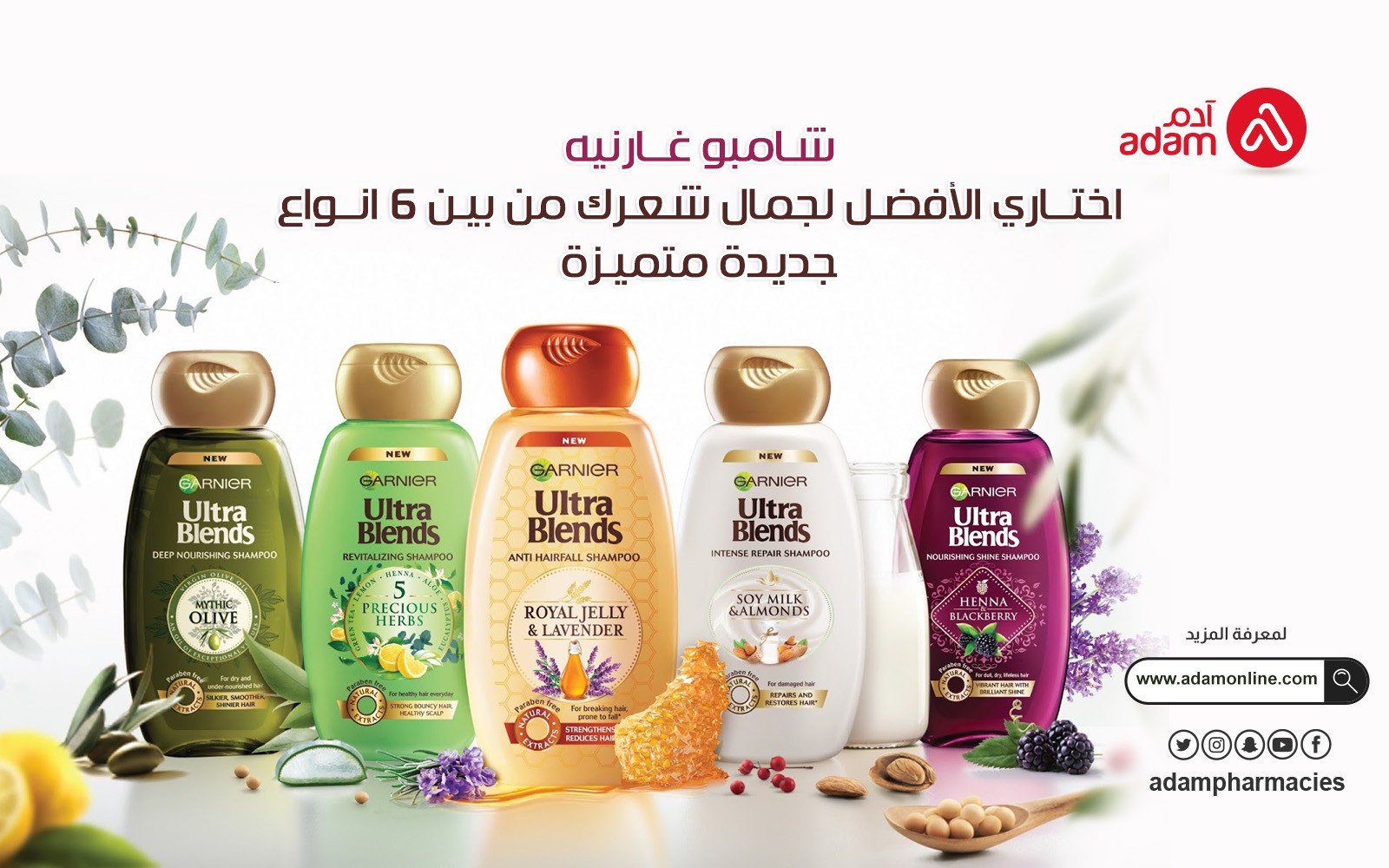 If we talk about the world of shampoo, we must evoke the Garnier shampoo , which is one of the most important pillars of the world of shampoo, where the brand Garnier is primarily concerned with the design of many hair care products, intended for dry, curly or even oily hair.
Garnier shampoo
Since Garnier has many innovations and takes care of hair problems, it is not surprising that they contain many shampoos, intended for men, women or even children.
It also has many innovations regarding different hair types (oily, dry, frizzy or even split scalps).
The Garnier brand was founded in 1904 with the launch of the first Garnier lotion by designer Alfred Amour, La Lotion Garnier with a botanical formula.
Decades passed, as did Garnier's achievements and innovations. Nowadays it has become one of the most famous international hair care brands.
Garnier gets its momentum and strength through its natural ingredients from apple and honey as well as castor oil, avocado and other natural ingredients.
So if you are a beauty queen or oriental lady who enjoys a tremendous amount of beauty and femininity and you are looking for the best shampoo for your hair whether it is dry, frizzy or even brittle.
You are sure to find Garnier to be the perfect solution for you in bringing out your self-confidence and your hair as well.
Types of Garnier shampoos The Garnier
Ultra Doux brand has a variety of shampoo products, which are distinguished by their different nutritional compositions.
Thus the diversity of their properties and purposes of use, in order to meet the needs of all types of hair and contribute to the treatment. From all his problems and restore his healthy and radiant appearance.
We will offer you some of the best Garnier shampoos: Trado
shampoo with castor and almond oil
This shampoo treats weak hair that complains of falling out, as it nourishes all hair strands from roots to ends.
And gives it strength and durability, and a healthy and attractive appearance, and this shampoo consists of two natural oils for healthy hair, one of the most beneficial.
Which eastern women resort to treating their hair, because of its amazing benefits, working to rejuvenate hair cells, and give them unparalleled smoothness. They are castor oil and almond oil.
Doux Moisturizing Shampoo with Almond Milk of this type has been formulated with the aim of being an exceptional hair treatment, as it blends in its formula two of the most effective ingredients, Almond Oil, one of the best natural nutrients for hair, and Castor Oil, known for its effective contribution to strengthening Poetry.
This formula treats hair loss and enhances its ability to counteract harmful environmental factors, in addition to many other healing and preventive properties.
Trado children's shampoo Trado children's
shampoo is gentle on the eyes and does not cause heartburn, which makes the child enjoy a calm bath without feeling pain in his eyes. This shampoo is not only good for kids but also for adults.
Trado Shampoo with Avocado Oil and Shea Butter Trado Shampoo with Avocado Oil and Shea Butter
to works give frizzy hair softness and hydration, and can be used for children with frizzy hair, and it also works to treat severe dry hair.
It works on nourishing and softening the hair, giving it superior softness and shine, and penetrating its follicles, as it consists of important natural substances, namely the nourishing shea butter and avocado, which are known for their wonderful benefits for hair.
Garnier Ultra Doux Olive Oil Shampoo
If soft and shiny hair is something that is important to you, then an olive oil shampoo exactly what you are looking for!
You can feel good about using it because it's made with natural ingredients that don't harm your hair, and it creates luscious locks that you'll absolutely adore.
It can also make a huge difference for those who have long, hard-to-manage dry hair..
The best olive oil shampoo from Garnier, follow along with us its advantages, disadvantages and price Based on our experience, it could be your new step in your beauty routine
By penetrating the hair roots and retaining moisture, olive oil may soften and strengthen hair.
The shine attributed to olive oil may be due to the oil softening the hair's outer cuticle.
That is why it is recommended to use an olive oil shampoo such as the legendary Garnier olive oil shampoo.
Ultra Doux Ultra Nourishing Shampoo is enriched with Italian virgin olive oil pressed in its finest form to nourish hair, quickly reduce frizz and reverse damage.
Hair that suffers from a lack of nutrition shows signs of coarseness, dullness and dryness.
Garnier Ultra Doux Olive Oil Shampoo features a paraben-free formula that nourishes hair from the inside out while also fighting coarse hair.
Made with olive oil rich in antioxidants.
It fights frizz and adds natural shine to your hair, while Vitamin E provides nourishment.
This is the perfect blend for nourished and healthy hair.
Designed for undernourished, coarse, dull, and frizzy hair.
It is also for daily use.
Garnier Ultra Doux shampoo with honey treasures
Garnier honey shampoo that restores hair health and strength thanks to its natural ingredients that nourish the hair roots and give them the ability to resist breakage, damage or dryness.
Ingredients of Garnier Honey Bee Shampoo:
Honey: It acts as a hair moisturizer, as it improves the health of hair follicles and stimulates their growth, in addition to contributing to getting rid of itching and dandruff on the scalp.
Glycerin: which gives hair softness and shine, as it rids the scalp of dirt and dirt, and works to moisturize and smooth dry and rough hair.
Propolis: which prevents hair loss and reduces scalp inflammation. Because it contains anti-inflammatory, it protects the hair from insects or dandruff.
Caramel: which provides the hair with the protein needed for its growth and gives the hair a silky smooth texture.
Royal jelly: It is one of the most important elements that nourish hair and give it density and strength, because it stimulates hair growth and moisturizes it.
How to use:
For optimal use and to get the best results, follow the correct method of use, which is:
Wet your hair with water, then put an appropriate amount of Garnier shampoo according to the length of the hair with a scalp massage.
After making sure that the shampoo reaches the scalp, rinse your hair with lukewarm water.
Finally, it is preferable to use Garnier conditioner with honey after shampoo and make a hair mask to get the best result.
Wash your hair with shampoo every week, once or twice at most.
Advantages of Garnier honey shampoo:
There are many advantages to using Garnier honey shampoo: It
nourishes the hair from the roots to the ends.
Deeply moisturizes hair.
Rebuilds and treats hair from damage and split ends.
Ideal for brittle, damaged and dry hair.
It cleanses the scalp thanks to its anti-bacterial and anti-fungal properties.
Contributes to the treatment of hair loss.
Continuous use of Garnier honey shampoo makes hair strong, full of vitality and beauty.
These were some of the Garnier shampoo products, and to learn more about the rest of the types, you can visit the Adam's Pharmacy and learn about the rest of the types.
---