Ways to soften hair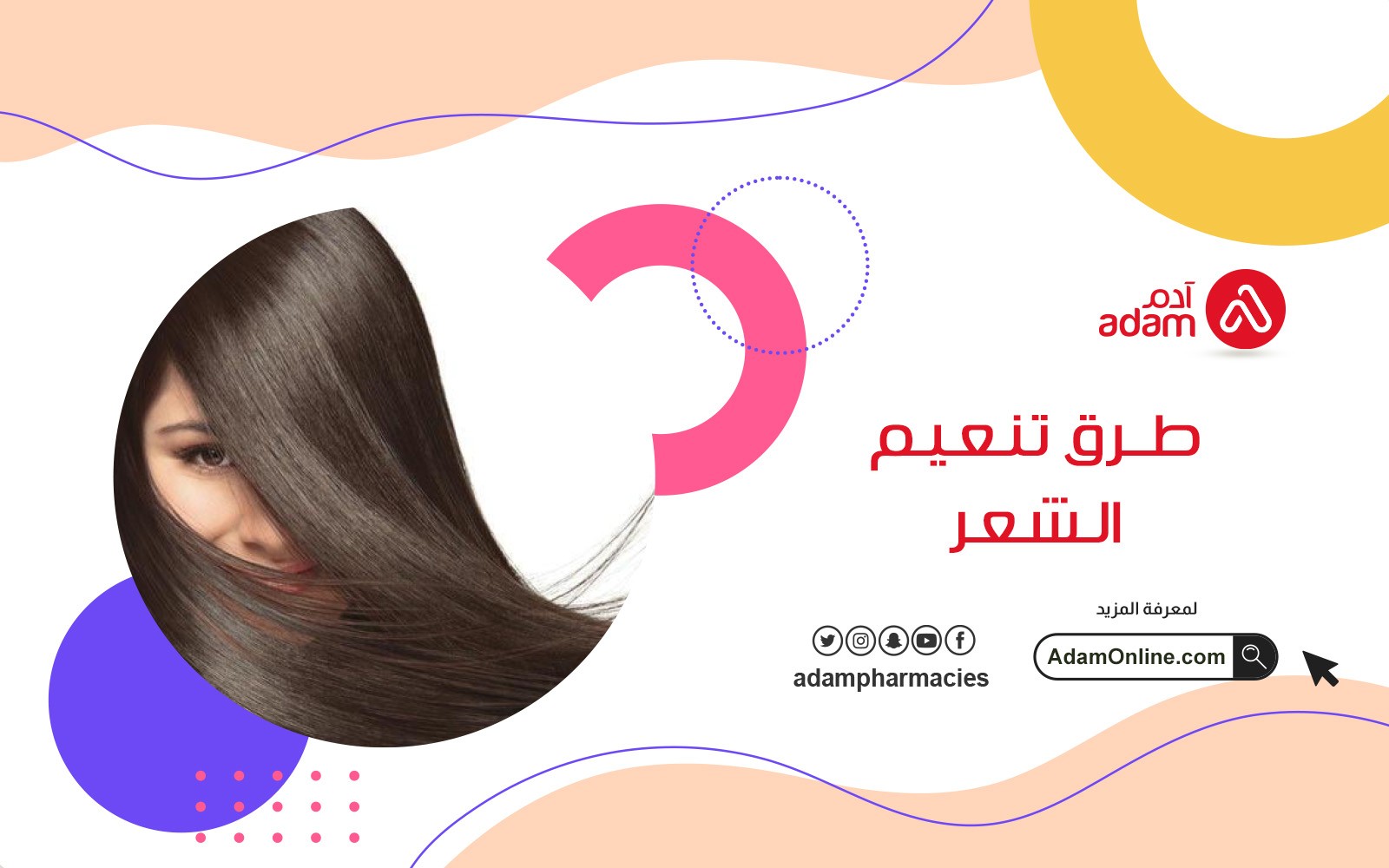 God created man in the best form; He is his successor in his land, but the vanguard of mankind is that they love change; As the change is one of the cosmic sunnahs.
It is well known that people are different in their shapes and natures, and they also differ in their colors, and they also differ in the nature of their hair.
Many people with curly, dry or oily hair love change; So they are looking for ways to soften the hair, and before knowing the ways to soften the hair, it is necessary to know that the nature of the hair, the degree of wrinkling, its length, the period of its growth and its density, all of these things differ from one person to another because they are due to genetic genes, but it must be ensured that the factors that make hair are available. It is perfect and grows in the best way after making sure that you do not have any health problems or diseases that affect hair growth perfectly, such as iron deficiency, eating unhealthy food, following an unhealthy diet, the presence of chronic diseases, thyroid diseases, taking some medications, stress, anxiety and psychological stress.
As far as caring for the hair internally, the hair must be taken care of externally in order to obtain ideal, vital, flexible hair with a soft look and feel.
( hair care products Safe and healthy Adam's Pharmacy ).
Methods of hair softening:
First: Taking care of hair internally and externally to soften hair:
Paying attention to general health and exercising to stimulate blood circulation in the scalp, avoiding stress and anxiety, and getting enough sleep.
Eating a healthy diet that contains proteins,vitamins and immune boosters necessary for a healthy body.
Washing hair using the shampoo and not using soap in washing hair because it leads to hair damage and dryness and causes many harmful problems to the hair.
Avoid using hot water that causes hair breakage and dryness.
Wash your hair with shampoo at least once a week and twice at most.
You should use conditioner for your hair after shampooing constantly to always moisturize the hair to get wet and soft hair that is not tangled and easy to style.
Dry hair gently and use a wide-toothed comb when styling.
Avoid using any hair products containing alcohol when styling.
Make frequent weekly baths of natural oils to moisturize and soften the hair.
(All hair oils are available at Adam's pharmacy).
Make therapeutic masks for dry and damaged hair to soften it as much as possible.
Kinds of conditioners that are left on the hair after showering can be used.
Keep cutting the ends of the hair every 45 days by 2-3 cm.
Washing the hair well with shampoo to prevent the accumulation of oils and fats in the scalp to prevent exposure to dandruff, scalp infections, weak hair and hair loss.
Second: Recipes and ways to soften hair:
Soften hair with grape seed oil: Grape
seed is one of the richest oils in fatty acids, antioxidants and hair vitamins , which has a great ability to:
How to use grape seed oil to soften hair:
Grape seed oil can be mixed with one of the natural oils such as: argan oil - olive oil - coconut oil - sesame oil.
Massage the scalp and hair from roots to ends.
Leave the mixture on the hair for one to two hours
and wash the hair with the appropriate shampoo and conditioner for your hair type.
Repeat it at least once a week.
Smoothing hair with castor oil: Castor
oil is characterized by its many benefits to protect hair, starting from moisturizing the scalp to obtaining smooth and shiny hair. Castor oil contains a mixture of triglycerides and 90% of fatty acids is ricinoleic acid and its properties are numerous:
Increases blood flow in the scalp The head, which promotes hair growth at a rate of 3:5 times the normal rate.
Treating hair loss and maintaining length .
A good moisturizer for both damaged and brittle.
Treating dandruff and scalp inflammation.
Smoothen hair and get shiny hair.
Protect hair from breakage and improve its texture.
How to use castor oil to soften hair:
Castor oil is used in different ways according to the nature and type of hair, each has its own way:
To soften corrugated hair:
Mix drops of castor oil with a mask, lotion and emulsion for hair, and use it with it to soften and moisturize hair, especially in the hot months.
To soften straight hair:
Castor oil is used to soften straight hair, protect its ends and detangle in the form of an oil bath once a week, and wash the hair with the appropriate type of shampoo after it without excessive.
soften curly hair:
It can be used to soften hair in the manner and manner that is appropriate for you, whether in the form of:
an oil bath - applying it with a styling cream - a hair serum and tonic.
Avoid excessive use of castor oil and other oils to avoid causing some damage to the hair.
Smoothing hair with parsley:
Parsley contains many important and useful elements that nourish hair, namely: vitamin B of all kinds, zinc, selenium, folate, vitamin E, vitamin K, vitamin A, iron, calcium, potassium, protein, antioxidants.
All of these elements work together in maintaining the health of the hair, as they:
Stimulate the blood circulation of the scalp, promoting hair growth.
Treating scalp infections.
Regulating the secretions of the sebaceous glands, which results in hair smoothing.
Get healthy shiny hair.
Strengthen hair follicles.
Promote the overall health of the hair.
How to use parsley to soften hair:
Put two tablespoons of parsley leaves in half a liter of water.
Boil the amount on the fire for 5 minutes.
Leave it to cool and then filter it.
Add 2 tablespoons of coconut oil emulsion and 1 tablespoon of glycerin.
Mix the mixture well.
Use the mixture instead of shampoo, and it is preferable to shake the mixture well before use.
Smoothing hair with yogurt and hair henna:
You can add a cup of yogurt with half a cup of hair henna, then mix the amount well and put it on the hair for two to three hours until the mixture dries, then wash the hair with lukewarm water while avoiding rubbing so as not to cause hair breakage.
It can be repeated twice a week to soften the hair and get the desired result.
Honey and olive oil to soften hair:
Olive oil and honey are both useful in softening and moisturizing hair.
Where olive oil contains a group of monounsaturated fats and contains omega 3 and omega 6, antioxidants, vitamin E and vitamin K, it moisturizes the hair and protects it from drying out.
Honey is also a natural hair moisturizer, thanks to its content of enzymes and nutrients that give dry hair luster and hydration, as:
It activates hair follicles.
Repairs hair damage.
Reduces hair breakage and brittleness.
Contributes to the treatment of hair loss.
hair enjoys softness, smoothness and strength.
Reducing hair frizz.
It strengthens and nourishes the hair, making it healthier and more beautiful.
It prevents scalp infections.
Prevents head lice infestation.
(All lice supplies are available at Adam's Pharmacy).
Antiseptic and antibacterial.
Restores hair its luster and vitality.
Moisture is retained in the scalp.
How to use honey and olive oil to soften hair:
a quarter of a cup of olive oil.
Half a cup of bee honey.
It is preferable to wash the hair with shampoo before applying the mixture of honey and olive oil to make it easier for the hair to absorb the beneficial elements.
Mix the ingredients well and apply it to the scalp and massage for a few minutes.
Cover the head with a shower cap and leave the ingredient on the hair for half an hour.
Wash hair well with shampoo.
It can be repeated twice a week to get strong and soft hair.
Peppermint oil to soften hair:
It is the preferred oil for oily hair because it contains menthol, a volatile oil that has a distinctive aromatic smell, and antimicrobials. It also has golden benefits for the health of the hair and scalp, including:
Re-moisturizing the hair.
Smoothing hair and increasing its luster.
Scalp revitalization.
Get rid of dandruff.
Getting rid of head lice.
Get rid of head fungus.
Reducing and reducing oils from greasy hair.
(A oil substitute at Adam's Pharmacy).
Elimination of itchy head.
Gives hair a refreshing scent.
Increase hair growth and length and strengthen its roots and follicles.
A vasodilator, it improves blood flow to the scalp.
Reduces frizz and hair involvement.
How to use peppermint oil to soften greasy hair:
Apply peppermint oil to the hair and scalp and leave for half an hour on the hair, then wash the hair.
It can be repeated twice a week to soften the hair and clean it of the accumulated oils.
How to use peppermint oil to soften dry hair:
(All moisturizing shampoo for dry hair at Adam's Pharmacy).
Mix peppermint oil with coconut oil.
Massage the scalp with the mixture well to facilitate absorption.
Leave the mixture on the hair and scalp for 20 minutes.
Wash the hair with shampoo.
For best hair straightening results, you can repeat it twice a week.
We showed hair straightening methods.
We mentioned how to take care of hair internally and externally.
And we have recipes and ways to soften hair.
---